Industry 4.0 is About More Than Data: 3D Printing in Manufacturing
In our blog, we have often written about Industry 4.0 and the Industrial Internet of Things (IIoT). When you look at that output and discussion from thousands of experts and analysts around the world, by far the majority is about data and how Digital Transformation will change the way manufacturing companies are run.
In discussing Industry 4.0, we have looked back at the first three industrial revolutions: The world of factories, mass production and the arrival of computing power to the factory. The fourth is the arrival of Digital, or Smart Manufacturing.
We also need to take a look at the physical side of production as well. Steam powered the looms of late 18th century Britain and the production line changed the way that factories were organized, driving cost downwards at previously unimaginable speeds. From the early part of the 20th century, we have seen massive improvements to the mass production paradigm, and more recently a complete upset in the supply chain: moving manufacturing to be close to the cheapest labor rather than the customer.

Click to see image in full-size
There are signs (particularly in the U.S.) that efforts are being made to bring some manufacturing home. In doing so the opportunity to reconsider the whole "cheapest is best" paradigm should be taken. Surely the new factories of 2020 and beyond will not be replicas of those whose architectures and layouts have changed little for a half century.
Welcome to the 3D Printing World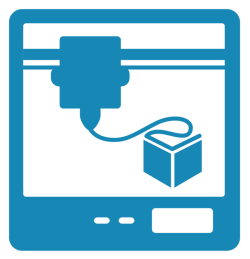 3D Printing has been showing promise for many years; its use in prototyping, design iteration and small scale production is already significant but we are now on the cusp of changing discrete manufacturing forever. Three major changes are starting to occur in additive manufacturing, or 3D printing, that will lead to fundamental change:
As these fundamentals improve rapidly, new opportunities will arise that take 3D printing ever closer to mass production. The biggest roadblock today is speed, but that is something that is clearly being addressed across the 3D printing industry.
Today, small series production has been introduced into specialist factories – industries such as super cars – where prices are high and volumes low are perfect breeding grounds for both 3D end use parts and the creation of tools such as molds for injection molding. Being able to design for additive manufacturing changes the dynamics entirely: the creation of parts that would otherwise be impossible to manufacture will bring performance, weight saving, and cost advantages to specialist manufacturing. It is easy to consider spare parts and design prototype manufacturing but the real thing is what manufacturers are after.
Serving the Individual
There are many mass producers who would like to be able to offer more individualization from running shoes to high-end automotive suppliers who even dream of customized external panels for the ultimate in personalized transport. Demands for metals and large pieces is still too low for mass-production, but manufacturers need to think about the future layout of their factories. More automation, robotics, and additive manufacturing will lead to an entirely new look on the shop floor; people may be present in few numbers, but everyone's' contribution will be more sophisticated and important.
3D printing brings design, manufacturing and service flexibility to many industries. As speed, quality and materials improve, those that exploit the new possibilities will be the winners. What you make today is a limiting factor for most manufacturers, but we are already seeing "manufacturing hubs" where a facility can produce to order for an enormous variety of customers and deliver in short time. Manufacturing really is becoming a critical part of the supply chain and logistics. Print-to-order manufacturing flexibility means having the right printers, materials, and designs ready for any customer order. It brings us back to the fact that Industry 4.0 is, in fact, all about data.
Software and 3D printing
We cannot get away from the data and must consider how it fits into the world of next-generation factories that use 3D printing. As we have seen, supply chain and logistics software is critical to serving a wide variety of customers. The whole product lifecycle also needs software adapted to the new factory environment. Three areas of software will be critical to initial success in this:
Product Lifecycle Management (PLM) that is at the core of all product design. The major PLM vendors are already fully engaged in developing integration with 3D printing systems and providing tools to design 3D ready parts.
Specialized additive manufacturing software. A vibrant industry serves home 3D printing to the most sophisticated of software problems, including design optimization, printing planning, and actual printer control.
Manufacturing Operations Management (MOM) systems that are already common in discrete manufacturing plants. MOM will be a critical interface between traditional manufacturing planning and execution and 3D printers.
At LNS Research we have spent a lot of time on MOM research in traditional discrete manufacturing. We already see the convergence of automation, MOM and the IIoT. 3D Printing is yet another driver to move to a flexible software platform that will allow the global use of data in ever more sophisticated applications. In future blogs, we will investigate the effect of 3D printing on the IIoT and its move into mass production. Exciting time lie ahead; we would be delighted to hear from manufacturers who are setting off on a 3D journey.
Posted by Andrew Hughes on Thu, Mar 23, 2017 @ 11:30 AM
http://blog.lnsresearch.com/industry-4.0-is-more-than-data-3d-printing-in-manufacturing